THE THREAT MATRIX
The FBI at War
The Threat Matrix tells the inside story of the FBI's war against terrorism, a story that begins a generation ago with the death of J. Edgar Hoover and winds its way through the mafia in Sicily, the rise of al Qaeda, 9/11, the battlefields of Iraq and Afghanistan, and the myriad of threats facing the country today.
Granted access to never-before-seen task forces and FBI bases from Budapest, Hungary, to Quantico, Virginia, this book profiles the visionary agents who risked their lives to bring down criminals and terrorists both in the U.S. and abroad long before the rest of the country was paying attention to terrorism.
The Threat Matrix is the story of a small group of FBI agents who believed that they could confront a new generation of international terrorists like al Qaeda without sacrificing America's moral high ground.
Relying on thousands of pages of once-secret documents—as well as hundreds of interviews—Garrett M. Graff takes us inside the FBI and its attempt to protect America, including the Bureau's behind-the-scenes fights with the CIA, the Department of Justice and five White Houses over how to combat terrorism, balance civil liberties, and preserve security. The book also offers an intimate look at FBI Director Robert Mueller, the long-serving and most consequential director since Hoover himself.
Covering more than 30 years of history up to the Obama administration's response to terrorism, the book explores the transformation of the FBI from a domestic law enforcement agency, handling bank robberies and local crimes, into an international intelligence agency—with more than 500 agents operating in more than 60 countries overseas today—fighting extremist terrorism, cyber crimes, and, for the first time, American suicide bombers.
Chosen one of the best non-fiction books of 2011 by Kirkus Reviews, The Threat Matrix peers into the darkest corners of this secret war and will change your view of the FBI forever.
AMAZON.COM
BARNES & NOBLE
BOOKS-A-MILLION
INDIEBOUND
POLITICS & PROSE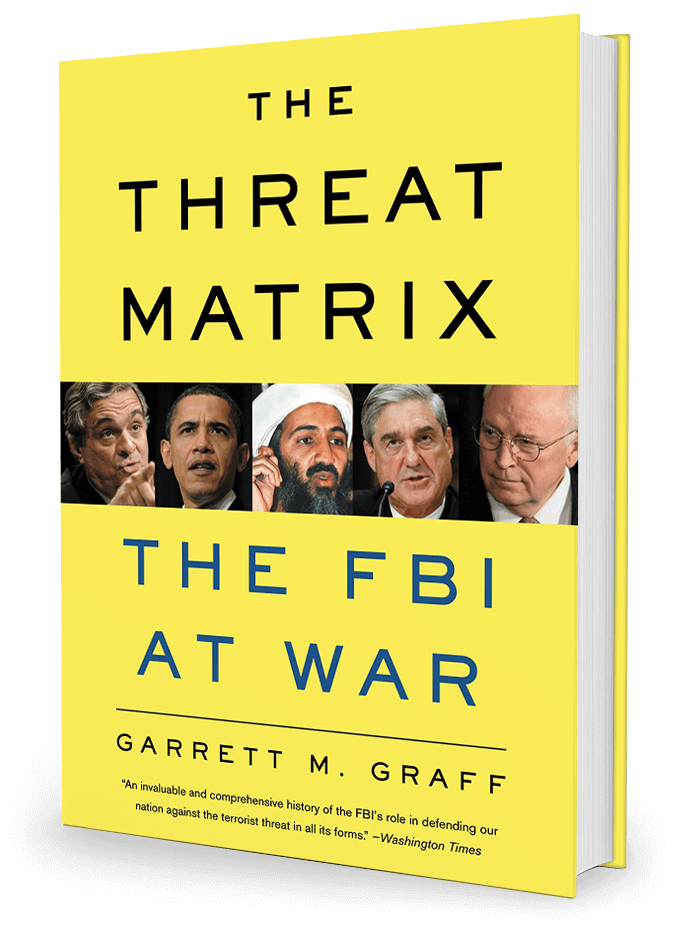 Back Bay Books
Reprint edition: February 9, 2012
ISBN: 0316068608
"Action-filled, richly detailed portrait of the Federal Bureau of Investigation in its new guise-charged not just with solving crimes already committed, but now with preventing at least some of them…. There's solid storytelling at work here-and quite a story to tell, too."

Kirkus Reviews
"The Threat Matrix is...a well-told story and a reading pleasure."

The CIA's in-house journal Studies in Intelligence

September 2011
Keep up to date on Garrett's writing & activities